1/8
Factory Metal Hospital Western Steel Medicine Storage Cabinets Medicine Cabinet
Quick Details
Supply Ability:
5000 piece per month
Factory Metal Hospital Western Steel Medicine Storage Cabinets Medicine Cabinet
Model Number: UL-22MD102
Product Name: hospital cabinet, medical cabinet
Size: 850*500*1800, standard size
Style: hospital furniture
Color: Can be changed
MOQ: 30 pieces
Delivery Time: 25-35 days
Payment Term: T/T
Quality Warranty: 3 Years
Feature: Anti-scratch
Usage:

Pharmacy, Office Treatment, Hospital
Product

Description
The product adopts a cold-rolled steel plate with high strength and corrosion resistance, and the standard deviation is within ±0.02mm.




After washing, pickling, and phosphating treatment, the product has a stronger anti-rust and anti-corrosion ability.




The surface coating uses new environmental protection plastic powder with strong adhesion, bright color, non-toxic, and formaldehyde-free.




New generation spraying equipment, Spray uniformity, particle-free, ensuring the cabinet with smooth surface and uniform texture.




The product passed ISO9001, ISO14001, ISO18001, SGS, and BV certifications.




We can provide label processing and manufacture according to customer drawings or samples




More than 50 years of office furniture manufacturing experience
Packing And

Shipping
Package size per unit product: 200.00cm * 100.00cm * 10.00cm

Gross weight per unit product: 138.000kg
Similar Products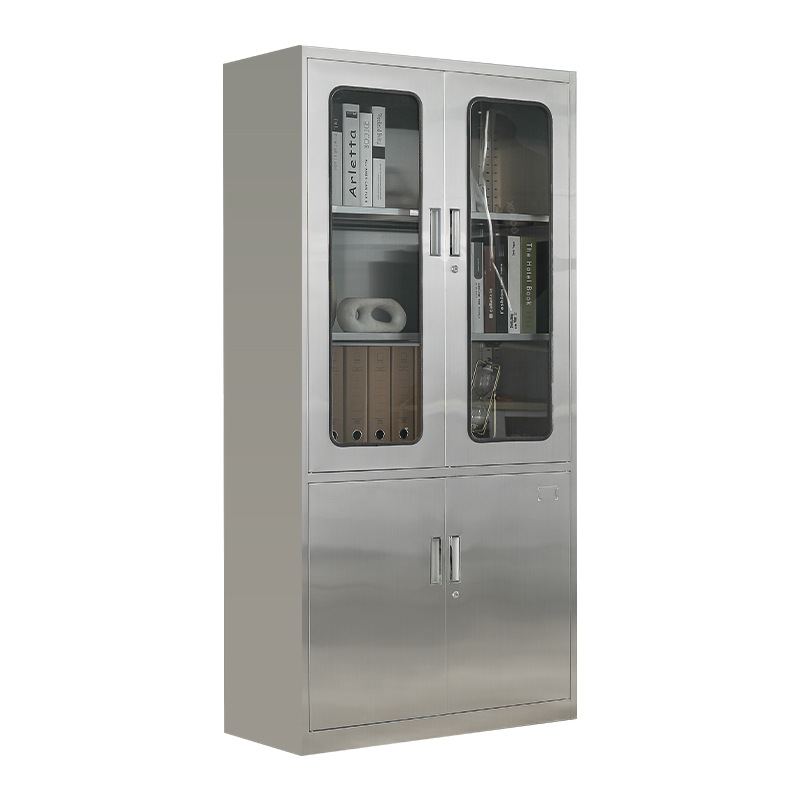 Office cupboard features:
Knockdown and easy assemble construction.
Adjustable shelves with dual purpose for box files or hanging files.
Different locks for options.
Reinforced doors for strength.
Master key available.
With a huge loading capacity for each shelf.
Quality Control
Before the order is confirmed, we would check all the materials and the leather swatches, they should be the same as the mass production.

We will keep track of every process in the manufacturing from the beginning to the end.

We have a QC team of 5 people. All the goods should be checked strictly by our QC team before packing.

We will take photos of the customers before packing.

Before the delivery, the clients could send the QC here to check the quality, and also they can authorize the third party to check the quality here.

After the delivery, we will keep track of the quality and try our best to help the clients when problems happen.
About Us
Ulink Furniture Group Co.Ltd, located in Lecong furniture town, created 15 outstanding furniture factories. We are committed to the design, production, sales, and services of high-end living room furniture, outdoor furniture, and garden furniture, aiming at creating a perfect, comfortable, and high-quality lifestyle for you. Our Products involved: high-end leather and fabric sofas, high-end bedroom suites, high-end stainless steel dinette, TV cabinets and marble coffee tables, outdoor furniture, and beach villas furniture.

We are looking forward to your visit and share with you our high-quality, high comfort, high satisfaction of home fashion feast. You are warmly welcomed to join us in creating brilliant Unlink furniture for you and us!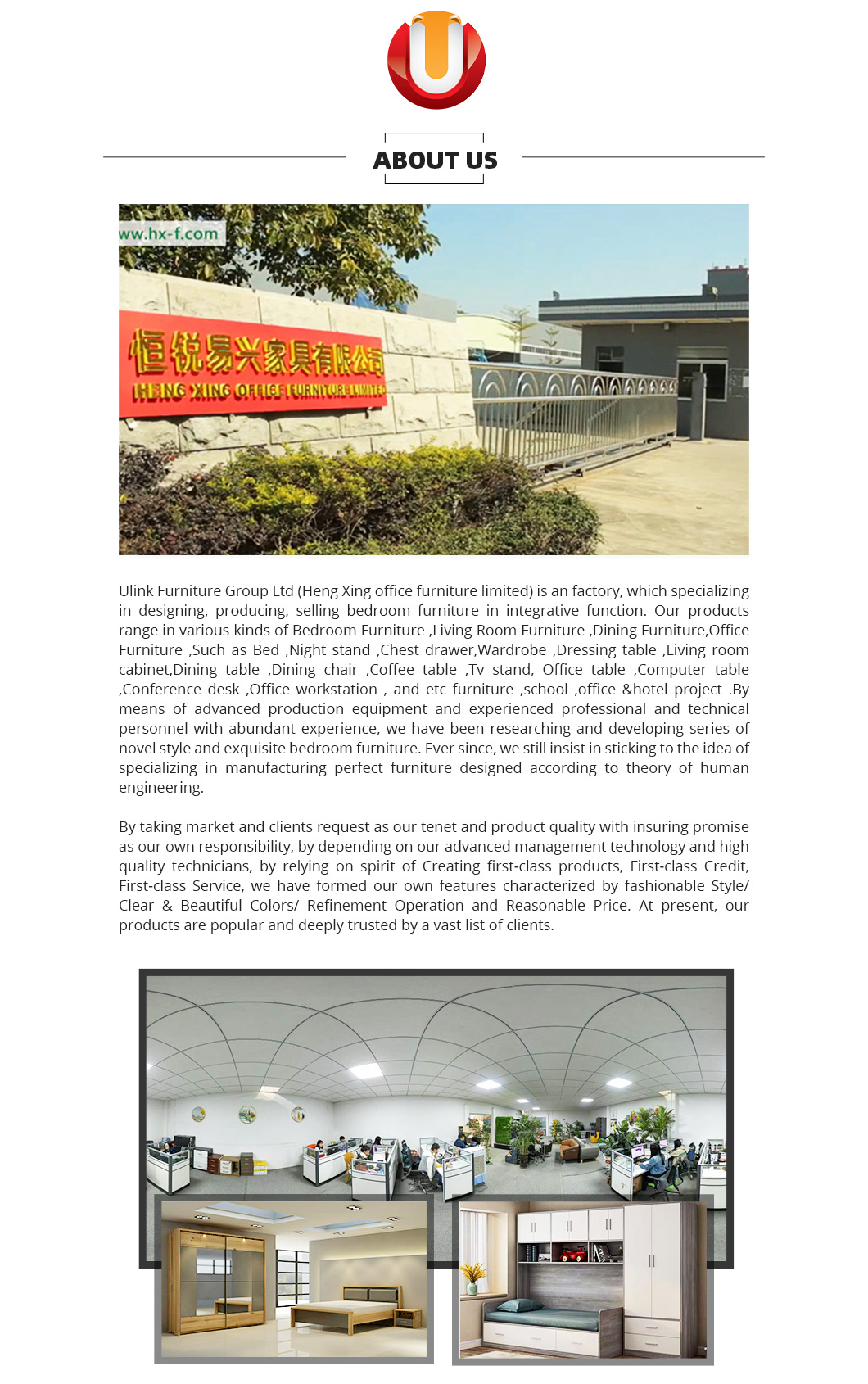 FAQ
1. Q: Do you have a showroom?
A: Yes, We have a 2 0,000 square meter showroom in the factory. There is an extensive range of airport chairs, office sofas, auditorium chairs and cinema chairs on display, and due to the quantity of our wide range of products, some of the models are not shown there.
2. Q: Can you arrange the shipment to our country?
A: Yes, just kindly let me know your destination port. Then we can arrange the shipment for you.
We can easily know that stainless steel lockers are made of stainless steel. The reason why stainless steel is used as the main material is that stainless steel is not easy to produce corrosion, pitting, corrosion or wear. Stainless steel is also one of the strongest building metal materials. Because stainless steel has good corrosion resistance, it can make structural components permanently maintain the integrity of engineering design. Chromium containing stainless steel also integrates mechanical strength and high extensibility. It is easy to process and manufacture components, and can meet the needs of architects and structural designers.
Why choose stainless steel lockers?
Stainless steel cabinet, simply speaking, is a cabinet made of stainless steel. It evolved from stainless steel kitchenware in the hotel canteen. The concept, idea and formation of domestic stainless steel cabinet is a little later than that of wooden cabinet. It was probably formed in the late 1990s and is popular in a certain range. There are about two reasons: first, it is affected by the fact that wooden cabinets are prone to moisture and cracking, Stainless steel can just make up for the defects of wooden cabinets; Second, its strong modern metal style has won the popularity of people who love modern fashion. Therefore, the stainless steel kitchenware that originally only appeared in hotels, restaurants and canteens has been introduced into the ranks of family cabinets. The stainless steel cabinets reveal a strong postmodern feature. When plates of delicious food are served from such a kitchen, it is as fresh and meticulous as the industrialized precision casting.
The design of stainless steel cabinet is mostly a simple straight line, so as to minimize unnecessary decorative lines, so as to create an open sense of space. In such a main atmosphere, sinks, stoves and range hoods of the same material can be more concealed and integrated. In order to prevent the hard bottom cabinet and hanging cabinet from making noise due to opening and closing, the cabinet will be installed with silencing strips in these places, so that everyone can enjoy the quiet cooking time. The stainless steel cabinet can be opened or closed, and all components can be installed and combined freely, with complete functions.
Advantages of stainless steel cabinet
Stable material performance: the stainless steel cabinet adopts the stainless steel integrated processing form. The cabinet and table top are integrated design, and effectively integrated with the sink and stove. The overall design looks more stable, simple and simple, creating a comfortable kitchen environment. Stainless steel is a relatively stable material. It is not easy to crack and crack. It can be used for a long time.
Convenient cleaning and maintenance: the maintenance of stainless steel cabinets is relatively simple. It usually doesn't take much time to maintain. After use, it can be directly cleaned with bleach or detergent. It can be wiped clean with a gentle wipe. It has a relatively better sanitary effect, and the cleanliness is greatly improved.
Strong endurance: stainless steel is a kind of material that everyone will know. It has the properties of fire resistance, high temperature resistance, heat resistance and so on. Even in high temperature environment, it will not be damaged. Moreover, the stainless steel material has a high density and is moisture-proof, waterproof and impermeable. Even if you dip it in soup, you don't have to worry. It can be easily wiped.
Green, environmental protection and safety: compared with cabinets made of other materials, stainless steel cabinets are more environmentally friendly. All stainless steel materials used have been treated with high-end environmental protection technology, and can be safely used even without testing. After professional production and processing, the stainless steel cabinets are endowed with more environmental benefits and create a healthy, safe and comfortable kitchen environment.