1/8
Nordic style hotel home bedroom furniture warehouse sells glass door wardrobe
Quick Details
Product Code:
UL-22NR62485
Shipping:
Support Express · Sea freight · Land freight · Air freight
Supply Ability:
5000 piece per month
Nordic style hotel home bedroom furniture warehouse sells glass door wardrobe
Basic Information
Model Number: UL-22NR62485
Product Name: wardrobe, bedroom cloth cabinet

Size:

Customized, standard size

Style:

Modern Bedroom Furniture

Color: Can be changed
MOQ: 30 pieces
Use for: Home Furniture, Hotel Furniture, Bedroom
Delivery Time: 25-35 days
Payment Term: T/T
Quality Warranty: 3 Years
Feature: Anti-scratch
Product

Description
Closet armoire with exquisite metal handles, with a lock on the door to prevent your kids from playing in the wardrobe, wardrobe will be perfect to compliment your bedroom decor

Reasonable arranging small spaces for your spare blankets, socks, shoes, gym bags, folded clothes, and more.

With sturdy hanging rod for those wrinkle-prone clothing, just like dresses, suits, and coats, organize your beloved clothing, easy to access

High-Quality safety tested engineered wood brings durability and stability, carefully assemble with an assembly manual for saving time.

Meeting any problem please feel free to contact us for getting a Resolve Solution which will be provided within 24H.
Packing And

Shipping
Package size per unit product: 200.00cm * 100.00cm * 10.00cm

Gross weight per unit product: 138.000kg
Similar

Items
HX-8ND9107
Our Wardrobe advantage is as follows:
1. Good quality raw material of the board used for Wardrobe: High-density particleboard or MDF, which has the character anti-water,anti-dirty,anti-scratch, easy to clean and keep fresh color),desktop and side leg thickness are 25mm or 50mm thickness, laminated with 2mm thickness PVC edges
2. Durable hardware for the Wardrobe: The hardware we used is a famous brand, without noise, strong and durable. We will give you more standby.
3. Good management and control of our production process: Raw Material Cutting→ Board Pressing → Products Shaping → Edges Sealing → Board Drilling → QC Assemble Checking→ Color Painting → Products Cleaning→Products Packing →Loading for Customer
4. Our Wardrobe has more than 30 colors, you can select any color you like
5. Wardrobe packing: All the products in Knock down packing, each part packed in one good quality carton box. Inside with the pearl cotton and cardboard protection. Inside with the instruction Manuel, it will be very easy to assemble our office furniture products. we also always put more spare parts for you in the order.
6. Logistics process: You can have your own shipping agent arrange shipment for you or we can help you to arrange the shipment. Our transport workers are professional. They will keep the goods smooth and steady. And we will also double-check the quantity again to avoid some missing parts.

7. Free charge service we can do for you : 1.We can send the invitation for you to get visa come to China visit our factory . 2.We can send our factory production authority letter for you to get the furniture tender .3.We can help you to collect your other supplier goods to our factory mixed loading in the container.
About Company
*Our ULINK GROU FURNITURE LIMITED & HENG XING OFFICE FURNITURE LIMITED is a direct factory with 12 years of production experience.
* Your OEM service is accepted!


Specializing in the production of office, home, and hotel bedroom furniture. Office furniture in table, chair, cabinet, workstation.Hotel bedroom furniture range from the king bed, queen bed, twin bed, single bed, double bed, bunk bed, wardrobe, TV stand cabinets, coffee table, chest drawers, dresser, shoe cabinets, also kitchen cabinets.
If you any interesting in it, Pls give us an inquiry ~any designs and actual products video as reference~
Trust you will like our office table and order fast !!!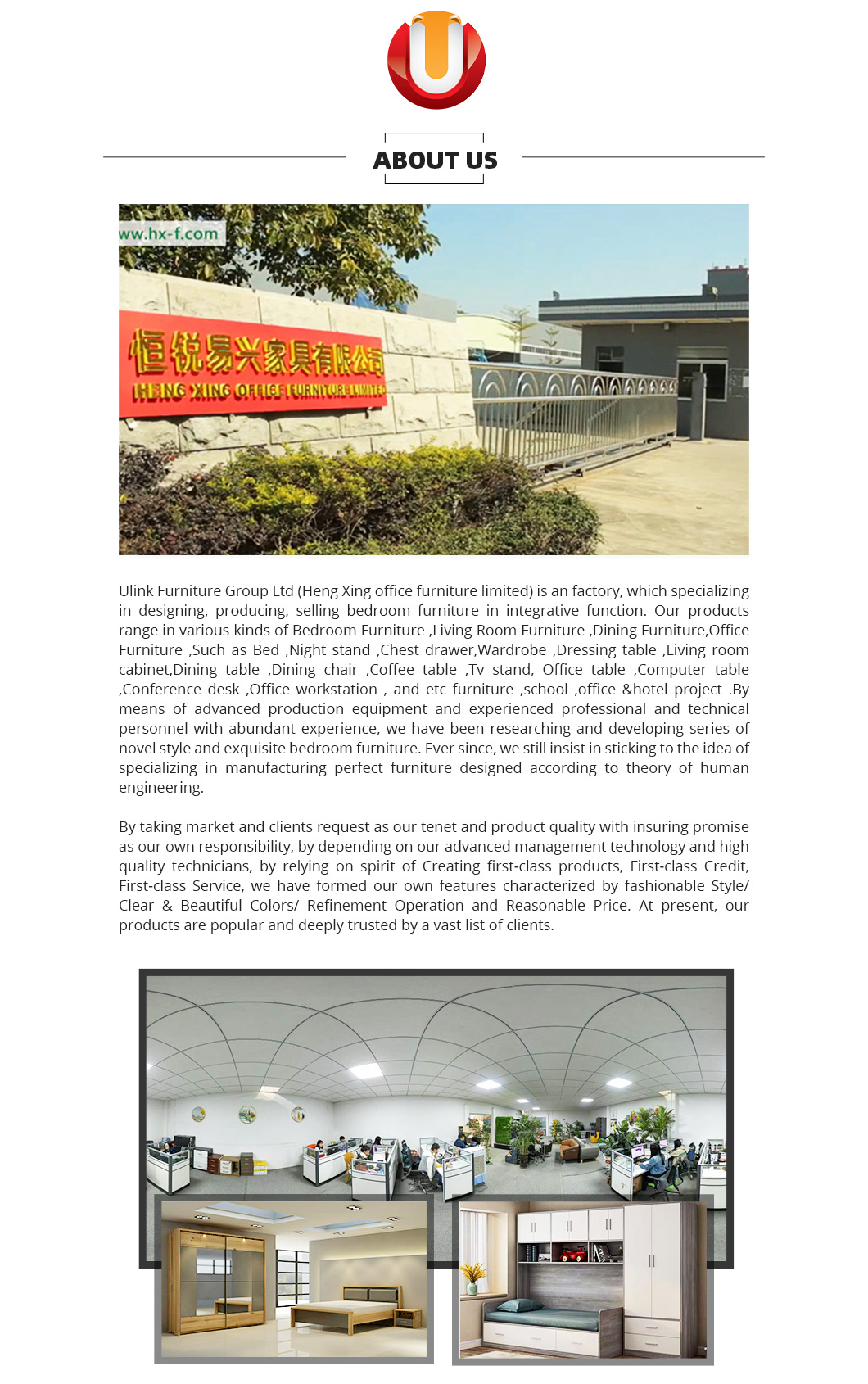 The glass door wardrobe is a popular kind of wardrobe in recent years. Compared with the traditional wardrobe, the glass door wardrobe can draw many beautiful patterns and patterns, with bright appearance and various styles. At the same time, it is convenient to clean, so that consumers can follow suit and customize, and customized furniture manufacturers have launched various distinctive glass door wardrobe. So what are the advantages and disadvantages of the glass door wardrobe? Let's have a look!
Advantages of glass door wardrobe
Material: natural environmental protection
The main material of the glass door wardrobe is glass. The glass is synthetic. After high-temperature processing and refining, it has strong functionality. In addition, the glass appearance patterns can be designed and drawn freely. The patterns are bright, generous and beautiful. The styles can also be set manually. The characteristics of the glass are the representative of fashion, and it has good anti-oxidation and moisture-proof functions. It is natural and environment-friendly.
Strong sealing
The aluminum alloy used in the glass door wardrobe is easy to extrude, with accurate profile cross section and high processing precision. Whether it is waterproof, elastic or airtight, it has a certain moisture resistance. In the humid and hot environment, the glass has a certain constant temperature and maintains a certain constant temperature effect.
Beautiful appearance
After oxidation treatment, aluminum alloy can display different colors and have certain oxidation resistance. After modern technology processing, the glass itself can draw a variety of patterns, and can also set different glass door wardrobes. If tempered transparent glass is set, it has a transparent function. If frosted glass is used, it has a semi transparent function and has an excellent decorative effect, which makes our house more stylish.
Strong corrosion resistance
The aluminum alloy oxide layer is colorfast, does not fall off, does not need to be painted, and does not need how to maintain it. It is easy to clean, and there is no problem with water and towels. It has strong brush resistance.
Disadvantages of glass door wardrobe
Glass doors are bulky and easy to break. Therefore, if there are children in the family, it is better to choose tempered glass when choosing glass. The safety is relatively guaranteed. The glass door has a good sealing effect. If the temperature difference between the inside and outside of the wardrobe is too large, it will lead to the generation of water vapor. The clothes are easy to be damp, and the touch effect is cold. It doesn't have the warm touch of the ordinary wooden door, which makes people feel cold.
The glass door wardrobe has high requirements for the corresponding hardware fittings, which will greatly reduce the service life of these fittings. At the same time, the heavy glass itself will also cause the heavy push-pull pulley, which is also relatively easy to be damaged.
Through the above comparison, we probably know the advantages and disadvantages of the glass door wardrobe. Partners in need should purchase or customize the wardrobe according to their own needs. When choosing glass doors, attention should be paid to the quality of the wardrobe. The best furniture is to have both practicality and aesthetics.