1/9
Modern Nordic Design Living Room Furniture Cheap price Wooden Coffee table TV Stand Set
Quick Details
Supply Ability:
5000 piece per month
Modern Nordic Design Living Room Furniture Cheap price Wooden Coffee table TV Stand Set
Basic Information
Model Number: HX-8ND9165
Name: Coffee table, tv stand

Size:

Customized, standard size

Style:

Modern Living Room Furniture

Color: Can be changed
MOQ: 30 pieces
Use for: Home Furniture, Living Room
Delivery Time: 25-35 days
Payment Term: T/T
Quality Warranty: 3 Years
Feature: Anti-scratch
Packing: Carton
Product Description
【Living Room Table Set of 2】WAMPAT 2-Piece tables come with 1 lift-top coffee table and 1 Television Stand. Each of the tables was Crafted of selected P2 MDF material without any smell and no harm to the human body. All the piece is easy to clean and waterproof. Attention: Our set will be sent out in 2 packages due to its large size and weight.
【Multifunctional Storage & Adjustable Shelf】This black modern entertainment center features 2 shelving areas and a push-to-open door that helps make your home feel lived in and neat. Adjustable-height shelves provide large and useful storage capacity space.
【Powerful Cable Management】Open and closed storage with cord management. The entertainment center for 65-inch TV has cable holes designed at the top for hiding unsightly wires. Cable management features to run cords in the back of the TV stands.
【Convenient Lift Top Design】Equipped with a flexible metal mechanism, the smart coffee table can be lifted up effortlessly and noiselessly to create another workspace. The tabletop height can be adjusted from 17.9'' to 23'' to meet your different demands. Additionally, the hydraulic rod and spring ensure a quiet and stable using experience.
【Dimension】The dimension of Television Stand: 60.6''Lx15.6''Wx20.8''H. It is recommended for 43 50 55 60 65 inch flat screens. The size of the coffee table is 39.3''Lx23.6''H. This living room set comes with a clear assemble instruction, all parts are clearly labeled and well packed, making installation easy and convenient. If you have any problems, please feel free to contact us.
About Packing
Package size per unit product: 200.00cm * 100.00cm * 10.00cm

Gross weight per unit product: 138.000kg
Related Products
UL-11N0485
UL-11N0614
UL-11N0828
UL-11N1099
UL-11N1126
Quality Control
Before the order is confirmed, we would check the material and color of leather/fabric by sample which should be strictly the same as mass production.
We will be tracing the different phases of production from the beginning.
Each bed will be checked before packing.
Before delivery clients could send one QC or point to a third party to check the quality. We will try our best to help clients when the problem occurred.
After Sales Service
Shipment and sample quality tracking include lifetime.
Any small problem happening in our furniture will be solved at the most prompt time.
We always offer relative technical support. Quick response, all your inquiries will be replied to within 24 hours.
About Company
*Our ULINK GROU FURNITURE LIMITED & HENG XING OFFICE FURNITURE LIMITED is a direct factory with 12 years of production experience.
* Your OEM service is accepted!
Trust you will like our office table and order fast !!!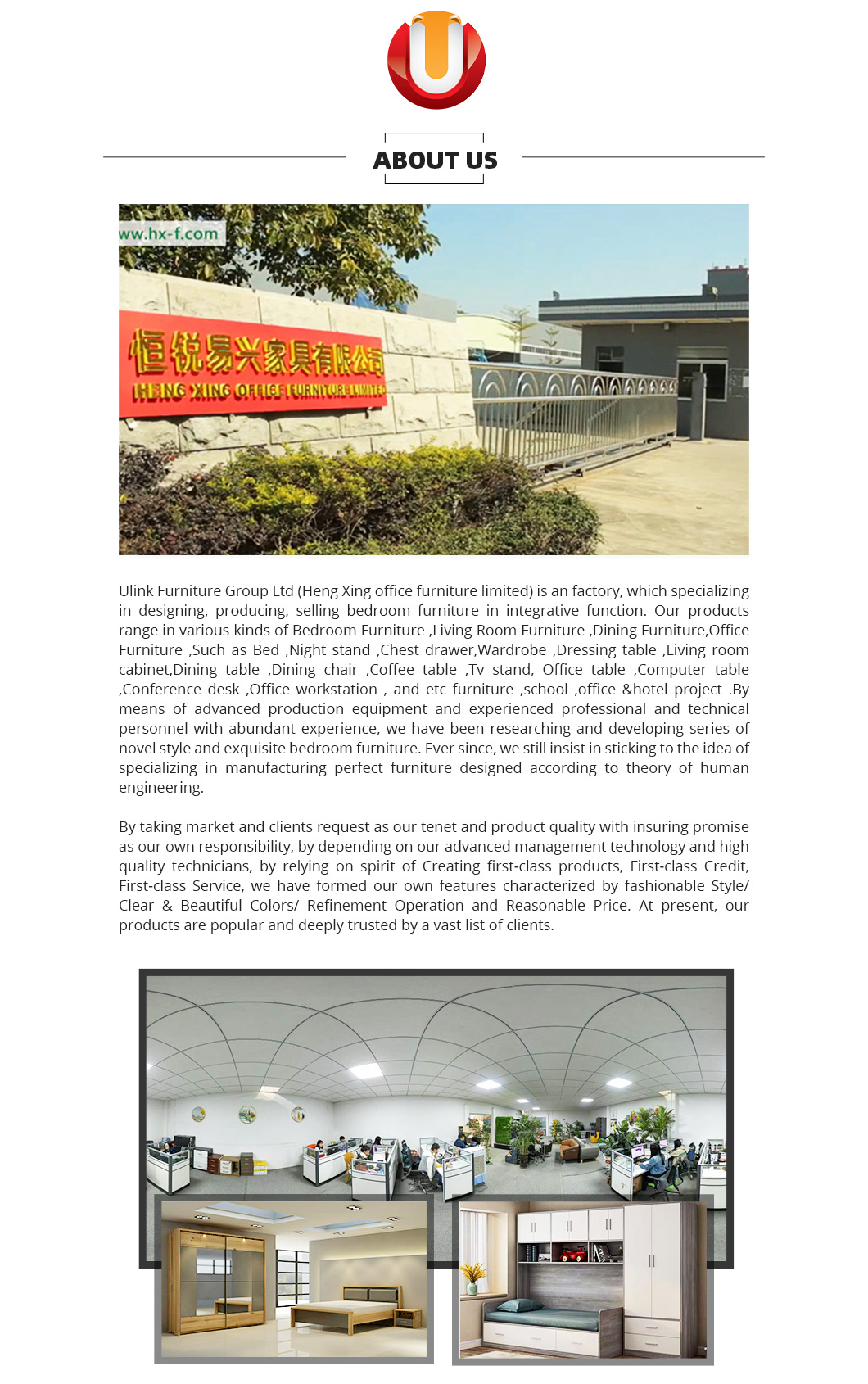 Living room storage area is not much, sofa, coffee table, TV often occupies a large area, in addition to some special storage design, the most common storage plan, is the TV cabinet.
TV cabinet as part of the living room furniture, the purchase of a lot of skills, let's learn together how to choose a TV cabinet.
how to choose TV cabinet
First of all, we must take into account the appliances to be placed, such as TV sets, DVD players and other appliances width, height and depth, so as not to buy back because the size does not fit the trouble.
Pay attention to the choice of TV cabinet materials, to give full consideration to the TV cabinet cooling problem. At the same time today's TV supplies vary in size, so when choosing a TV cabinet, but also take full account of its load capacity.
The purchase also check the TV cabinet in the line placement is convenient and feasible. And, in order to take into account the TV and other electrical functions can fully play a role, so in deciding the design or shape of the TV cabinet, to let the function of the appliances to give full play to the first choice.
The general people in watching TV, its line of sight height should be in the person sitting down under the line of sight. Therefore, in the choice of TV cabinet, the height of the TV should be placed in the design of 30-40 cm as the best, will not block the line of sight.
The choice of TV cabinet must be in harmony with the overall style of the living room or bedroom. Can not be "maverick" and appear abrupt, should choose to be able to integrate into the overall space of the style.
Pay attention to the load-bearing capacity. When choosing a TV cabinet to take into account the weight capacity of the TV cabinet, some TVs are heavy, some people will put a lot of things to the TV cabinet inside storage, so the weight capacity is not enough.
What are the materials of TV cabinets
Solid wood
Solid wood TV cabinet is also now a lot of people like a material, usually at a higher price point, whether it is always the style or classical style are more appropriate, the appearance is very beautiful, good visual effects, plate hardness, long life.
Marble
Marble is a very common material in home building materials, with wear-resistant and scratch-resistant, high temperature resistance and other advantages.
Rock Panel
Compared with marble, rock slabs are more cost-effective. The wear resistance of rock board table top is stronger, zero formaldehyde, easy to clean and easy to clean.
Glass
Although the glass is good-looking, but the practicality is poor, easy to damage, security is poor, but good tempered glass material is still very high quality, durability is also stronger.
Purchase advice:
Look at the style, no matter what furniture is purchased, the style must be considered clearly, if it does not match the overall style, it is easy to be incestuous.
Measure the size, some big brands will have size measurement services, but if you buy online or buy finished furniture, we must consider the size of the problem, otherwise it is easy to put or not enough size.
Look at the material, the TV cabinet material is rich, the material can also match each other, there are usually two kinds of wood and stone, the former is more widely used, the latter because of the weight and modeling difficulty of the application of slightly less.
For more information about Modern Nordic Design Living Room Furniture Cheap price Wooden Coffee table TV Stand Set, we are glad to answer for you.