1/1
High Quality Best Selling Modern Wooden Wardrobe
Quick Details
Product Code:
UL-22NR61058
Shipping:
Support Express · Sea freight
Supply Ability:
5000 piece per month
Quick Details
Usage

Home/Hotel/Apartment

Size

Customized

Style

Modern

Category

Wardrobe

Material

MDF

Color

more than 30 colors are optional

Package

Standard Export Package

Brand

Ulink

Warranty

3 years

Origin

China
Product Description
High Quality Best Selling Modern Wooden Wardrobe
Features

:

1.Full set of wardrobe including plywood and other accessories.




2.Free and professional design, quick quote.




3.Kinds of materials/finishes/colors choices.




4.Customized style and detail notice to give you a dream bedroom.




5.Water proof and environment friendly boards.




6.Stable quality and rich experience in oversea projects.
Ulink Furniture Group Limited has been established for more than 10 years! We are expericend and professional!
We hoep you can be one of our distinguished customers!
Detailed Information

Products Name
UL-22NR61058
Style
Modern

Style

Specific Usage
Home/Hotel/Apartment
Packing Details
Knock Down Packing , each parts of the products packed by double strong carton boxes ,
inside with the pear cotton protection ,with instruction manuel eay to assemble .
Meterial Cover
Melamine Laminated Partical board or MDF (which have the character anti-water ,
anti-dirty ,anti-scratch , easy to clean and keep fresh color) ,The headboard PU
Color
More than 30 colors for selection

Place of Origin

Foshan City Guangdong Province China

Warranty

3 Years
Factory Direct Sale High Quality Sliding Wardrobe with Glass Door.
Natural Color Wardrobe with Perfect Craftsmanship.
Smooth rail with large capacity for your cloths.
This closet looks so nice!
Our wardrobe sells very well in overseas market.
Retail, Wholesale or Project are warmly Welcome!!!
Contact Us to Get More Items!
Color
In order to meet our customers' requiremnt, we have more than 30 color to choose. For better understanding, please refer to the following photo:
Hot Sale Wardrobe from Factory
Superior Quality and Good Price
This warerobe is good looking and with nice mancrafts.
So Practical and Space Saving!
You can choose our cabinet for home/apartment/hotel.
Any trial order is highly appreciated.
Packaging & Delivery
1. Flat Packing: each panel will be scan before packing, and could be tracked by system
2. Assembled Packing: the carcase, hinges and doors are assembled properly, then it will be packed with well protection with foam, corner protector and paper
3. Shipping: both bulk shipping and container shipping are available
4. Bulk Shipping: are the products could put in wood case so they won't be missed whenm shipment and seperated

5.
WorkShop Introduction:
Our Workers are very experienced. They have the principal of the factory "Quality Comes Firt" in mind.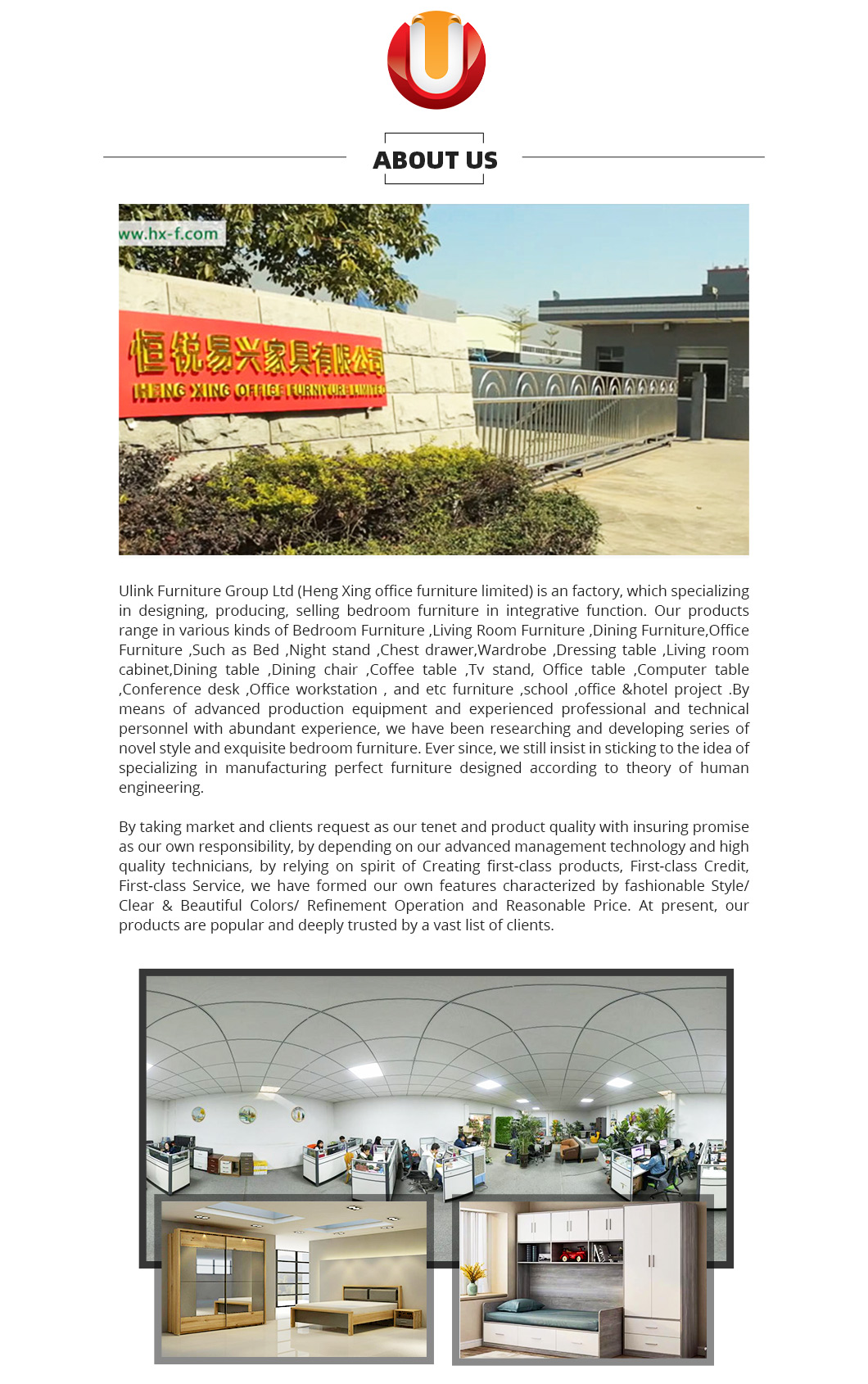 We have very professional team for sales. We participated in many different
f
airs in the past ten years. We build up very good relationship with our overseas customers. We have won great reputation from our clients by our professional work.
How To Customized Your Wardrobes?

1. Bedroom design plans.
First, if you already have bedroom wardrobe design plans, you can send it to us.
If you don't have bedroom wardrobe design plans, you can tell us your bedroom size and shape, floor to celling height. We will make a design for you.

2. Wardrobe materials options.
We have many wardrobe material, hardware, door styles and packing for customers' options.

3. Quotation.
After materials confirmed, we will make a quotation for you.

4. Sign Contract.
If we need a agreement, we will sign a contract.

5. Payments and Production.
When we recieve your deposit payment, we will start making your wardrobes.

6. Delivery.
Arrange shipments and send the wardrobes to you.

7. After sales.
If you have any question about how to instal our wardrobes, we will instruct step by step until installation succeed.
If there is anything broken during the delivery, you can take a photo to us, we will make a new part for you for free.
Our pursuit:
what we furnish you is not only design but parts of your home, living style and family memories. Since we know what we are devoting ourself in is not merely wooden wardrobe but a hope of having a cozy home, where family members live and have a rest.
Also you could get more wardrobes from us by contact with us anytime. Our sales team will revert to you as soon as possible.
Ulink Furnitue Group Limited

Makes Your Projects Easier!
Here is our Main Line:
Office Furniture:
Office chair&table, Executive chair&table, Storage filing cabinet, Computer table, Training chair, Meeting table&chair and so on
Home&Hotel Furniture:
Living room cabinet, Coffee table & TV cabinet; Storage Cabinet, Kitchen & Living room cabinet, Dining room furniture, Bedroom furniture
Advantages of our products:
China direct sale, price is good.

Quality is good.

Various of products.

Good package.

Good after sales service

Warranty for goods: 3 years

Acceptance for customization

More than 30 colors are optional

Experienced staffs in workshop and office

Many overseas customers
Every family has a wardrobe, whether it is solid wood wardrobe, high-end customized wardrobe or splicing wardrobe. One thing they have in common is that women's clothes are usually more common than men's. Don't ask why, this is a very common phenomenon. Every woman is more beautiful. She will never be too scarce. Women have relatively high requirements for the wardrobe. Wooden wardrobe is more suitable. Many people choose to install wooden wardrobes, but everyone is not familiar with the installation of wooden wardrobes. You can learn how to install a wooden wardrobe in the following ways.
I

nstallation

method of wooden wardrobe
wooden wardrobe installation - Preparation
First, open the package of the wooden wardrobe, check whether the parts are complete, completely assemble the board, and then prepare the kit.
wooden wardrobe installation - cabinet body installation
First, put the board on the left side of the wooden box, put the screws on the offset holes, fix the tailgate on the screws that are only struck, then lock the lock handle, and then assemble the top board. There is a simple prototype on both sides and top of the wardrobe.
Next is the base plate. First, use the punching machine to place the screws on the bottom plate, then fix the upper corner bar, and then combine the assembled bottom plate with the prepared top plate. At this time, you can see some cabinets of the wardrobe.
Finally, the rear bracket and base are fixed, and the exterior of the simple wooden wardrobe is completed.
Wooden wardrobe installation - trouser rack, drawer installation
To install the cabinet body of the simple wooden cabinet, the next step is to assemble the pants rack and drawer. First, take out the components required for the cabinet and drawer of the wardrobe. According to the data in the clarification, screw a screw on the drawer, install the side extraction, use the two in one lock to lock the drawer, then use the self tapping screw to lock the tail, and finally install the sliding guide rail on the left and right sides of the drawer to form a drawer type.
Then open the pants rack, first install the steel pipe on the tail plate of the pants rack, then knock the screws at both ends of the tail plate, and then firmly fix the left and right side plates of the pants rack to both ends of the two tail plates. The pants rack is about the shape assembly, which can be fixed with screws.
wooden wardrobe installation - concealed cabinet installation
Continue to assemble the concealed cabinet components. First, select all components required by the concealed cabinet, find out the side panel of the concealed cabinet, screw on the side panel, connect the pull rod, and lock the three in one locking handle.
To deal with the panel part of the dark cabinet, first put the screws, do not forget to install the small brace, then lock the left and right side panels of the panel and the dark cabinet, and then put the screws on the front belt. Install it on the front side of the left and right panels of the black box and fix it with tools.
wooden wardrobe installation - door panel installation
Place the middle door hinge on the door panel and lock it with self tapping screws, then place the middle door hinge on all door panels, fix it on all wooden doors of the wardrobe with self tapping screws, and then knock the screws with the handle. Install the door handle on the door panel and repeat the above steps to fix the other two doors on the closet.
wooden wardrobe installation - Installation
After installing the wooden wardrobe, check the whole installation project of the wooden wardrobe. First, check the effect of simple wooden wardrobe components, then check by hand, pull the drawer to see if the drawer pulley needs to be adjusted, and then see whether the screws are fixed. In this case, if there are screws that are not tightened, there may be some interfaces that need to be reinforced and reinforced once from the beginning. If there is no problem, install a wooden wardrobe.