1/8
Metal Two Doors Locker Western Medicine Cabinet Medical Cupboard Stainless Steel Filing Cabinets
Quick Details
Supply Ability:
5000 piece per month
Metal Two Doors Locker Western Medicine Cabinet Medical Cupboard Stainless Steel Filing Cabinets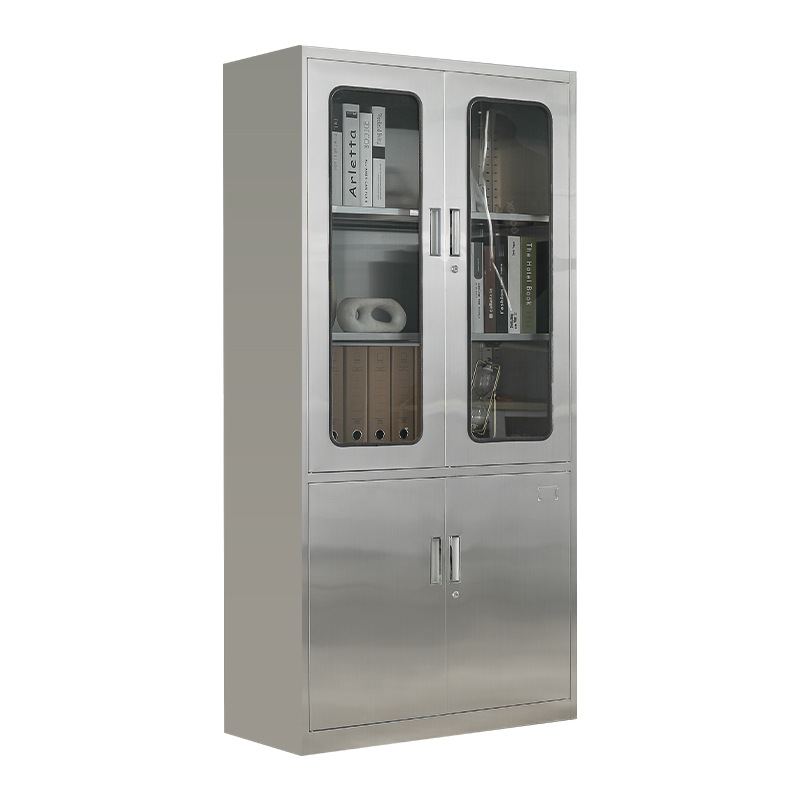 Model Number: UL-22MD105
Product Name: hospital cabinet, medical cabinet
Size: 850*500*1800, standard size
Style: hospital furniture
Color: Can be changed
MOQ: 30 pieces
Delivery Time: 25-35 days
Payment Term: T/T
Quality Warranty: 3 Years
Feature:

Simple design, a different model for your choice.




High-quality strong structure.




Heavy-duty loading capacity, durability, and stability.
Product

Description
The surface is treated by degreasing, derusting, phosphating, cleaning, electrostatic spraying, and thermal curing, making

the product layer not easy to fall off and rust in different environments.

The first layer: selected national first-class high-quality cold-rolled steel for pickling and deoxidization of the rigid base

The second layer: the rigid base layer protects the matrix cold rolled steel to a certain extent protect

the metal from corrosion

The third layer: the powder layer is sprayed with phosphorus-free electrostatic powder with strong adhesion

tastes formaldehyde-free, safe, and environmentally friendly

The fourth layer: heat curing treatment, the product has strong adhesion, no fading, and long service life
Packing And

Shipping
Package size per unit product: 200.00cm * 100.00cm * 10.00cm

Gross weight per unit product: 138.000kg
Similar Products
Office cupboard features:
Knockdown and easy assemble construction.
Adjustable shelves with dual purpose for box files or hanging files.
Different locks for options.
Reinforced doors for strength.
Master key available.
With a huge loading capacity for each shelf.
Quality Control
Before the order is confirmed, we would check all the materials and the leather swatches, they should be the same as the mass production.

We will keep track of every process in the manufacturing from the beginning to the end.

We have a QC team of 5 people. All the goods should be checked strictly by our QC team before packing.

We will take photos of the customers before packing.

Before the delivery, the clients could send the QC here to check the quality, and also they can authorize the third party to check the quality here.

After the delivery, we will keep track of the quality and try our best to help the clients when problems happen.
About Us
Ulink Furniture Group Co.Ltd, located in Lecong furniture town, created 15 outstanding furniture factories. We are committed to the design, production, sales, and services of high-end living room furniture, outdoor furniture, and garden furniture, aiming at creating a perfect, comfortable, and high-quality lifestyle for you. Our Products involved: high-end leather and fabric sofas, high-end bedroom suites, high-end stainless steel dinette, TV cabinets and marble coffee tables, outdoor furniture, and beach villas furniture.

We are looking forward to your visit and share with you our high-quality, high comfort, high satisfaction of home fashion feast. You are warmly welcomed to join us in creating brilliant Unlink furniture for you and us!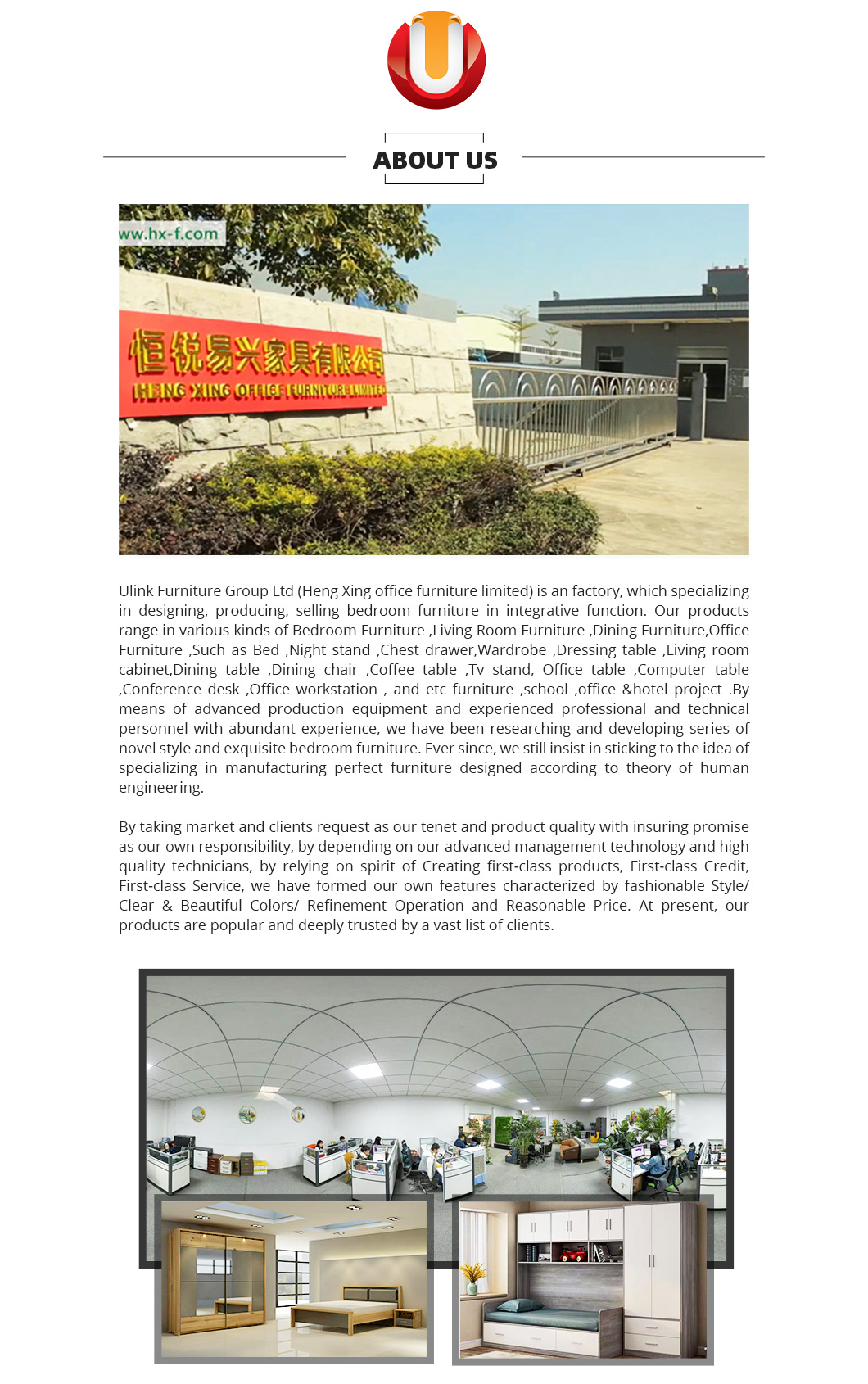 FAQ
1. Q: Do you have a showroom?
A: Yes, We have a 2 0,000 square meter showroom in the factory. There is an extensive range of airport chairs, office sofas, auditorium chairs and cinema chairs on display, and due to the quantity of our wide range of products, some of the models are not shown there.
2. Q: Can you arrange the shipment to our country?
A: Yes, just kindly let me know your destination port. Then we can arrange the shipment for you.
What should we pay attention to when making custom stainless steel lockers?
Stainless steel lockers are made of stainless steel with high strength and impact resistance. Compared with traditional wooden cabinet and iron cabinet, it is waterproof, moisture-proof, rust proof, corrosion-resistant, tough and durable. It is especially suitable for swimming pools, gymnasiums, universities, gymnasiums, hospitals and other places.
Generally, stainless steel lockers are made of 201 and 304 materials. 201 stainless steel is inferior to 304 in rust resistance and firmness. Naturally, the price is cheaper than 304 stainless steel cabinet.
The use of dark stainless steel to make living room lockers is a modern style as a popular post-modern design. The heavy tone stainless steel lockers stand against the wall, which is an ancient and new furniture. The tall lockers can not only effectively help us sum up items, but also a landscape in the room.
The storage cabinet made of stainless steel is no stranger in the office or gym. It has the function of preventing scratching and falling, but its overall cabinet is made of stainless steel.  
The stainless steel simple storage rack is also a relatively simple storage rack. This storage rack is relatively suitable for the fashionable home environment. Now many storage racks on the market are stainless steel, but the really good stainless steel storage rack is also very useful, and the workmanship is quite exquisite. It is suitable for kitchens.
Stainless steel bathroom mirror cabinet. It is suitable for all kinds of decoration styles, with multiple sizes and durability. Enjoy a quality life, classify reasonably, say goodbye to clutter, make up and wash, store things properly, and rely on it for delicate daily life.
Stainless steel lockers can be customized and processed into lockers for storing various things. The price varies according to its function. Stainless steel lockers have more shapes than other materials. This is because stainless steel has high plasticity, and the price of stainless steel lockers is relatively moderate. The customized products are of good quality, corrosion resistance and long service life.
Stainless steel lockers are commonly used according to their functions: stainless steel file cabinet, stainless steel Chinese medicine cabinet, stainless steel wardrobe, stainless steel turning shoe cabinet, stainless steel porch cabinet, stainless steel bathroom cabinet, stainless steel supermarket lockers, stainless steel factory school cupboards, stainless steel TV cabinets and other stainless steel cabinets.
Uses and advantages of stainless steel lockers
Unlike the traditional wooden cabinet, it is easy to damage, not resistant to impact, and easy to breed bacteria and produce peculiar smell. The storage cabinet is made of high-quality cold-rolled steel plate, which has superior performance than traditional wooden storage cabinets. Lockers are widely used in offices, government agencies, factories and other types of small parts, samples, molds, tools, electronic components, documents, design drawings, bills, directories, forms and other storage management. It is the private housekeeper of personal belongings.